The Beginning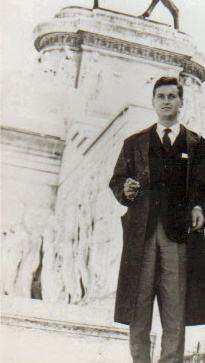 The story of Serafino Falvo Tailors goes back to post-WWII Italy. Serafino Falvo was born in a small town affectionately known as Amato, located in the Calabria region of Italy. In the Italian language the word 'amato' means 'to be loved', and coincidently expresses the feelings many people have experienced when donning a Serafino Falvo suit.
At the age of fourteen Serafino moved to Rome and begin his studies to enter the priesthood. At that time it was common for the first born son of a distinguished family to become a priest. However his plans would change. While living in Rome he often visited his uncle Pasquale Falvo, who was one of Rome's Master tailors. There he fell in love with the sartorial art, and spent much time watching his uncle ply his trade. Shortly thereafter Serafino convinced his uncle to allow him to apprentice, and eventually after several long years of study Serafino achieved the Master tailor status for himself. At this stage in his life Serafino had an incurable desire to travel and see the world outside of his native Italy. This desire in combination with Italy's post-WWII economic climate caused Serafino to seek out employment abroad.
The Dream Team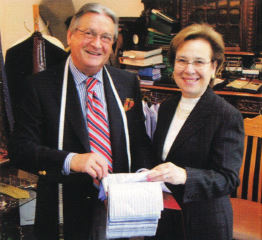 After careful consideration Serafino decided to move to Newcastle, Australia where he continued to practice his trade at the famous Alex Peat and Company boutique. There he met his wife Paola, who was a first-rate dressmaker. The match was outstanding as they both learnt from each other's experiences. A few years later Paola and Serafino returned to Italy and married in Paola's native Venice. They would prove to be an impressive sartorial force. Shortly after their marriage Serafino was asked to act as Collaudatore for the Hittman/Cerutti clothing line in Milan. Working for such an illustrious brand so early in his career was consider a great honor, and helped Serafino climb the ladder of the textile industry.
Serafino's next job would bring him to Manchester, England where he was offered a position overseeing the Dhobi textile plant. So once again he moved, but this time Paola accompanied him and their experiences in England would leave a profound impression. Both Paola and Serafino loved their time in England. To this day they speak with fondness about their love for the British dress and garb culture. Here is where Serafino acquired his education in management, and quality control. For three years Serafino attended the Manchester Technical College and successfully graduated with a degree in Textile studies.
Understanding Quality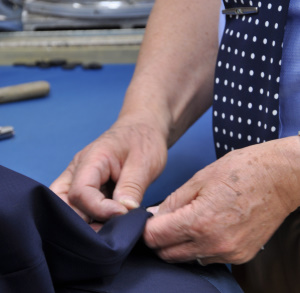 Finally after several years in England, Serafino was offered a job in Durban, South Africa. Although Durban sounded like an unlikely place for an Italian Master tailor, his unique blend of sartorial and managerial experience was badly needed when he was appointed Quality Manager of the Men About Town textile plant. This experience allowed Serafino to gain an understanding of the textile industry normally unavailable to the average tailor. His current ability to judge fabric quality and production was gained during this unique situation.
After several years in Durban, both Serafino and Paola felt the need to return to Europe. Serafino established a position in Larkholme, Scotland. He was asked to act as Quality Manager for the prominent Dacks clothing line. While working in Scotland, Serafino heard about a opening with the famous Chesterberry brand. After applying Serafino was promptly offered the job and spent the next year in Chesire, England managing the Chesterberry quality process.
Making Canada Home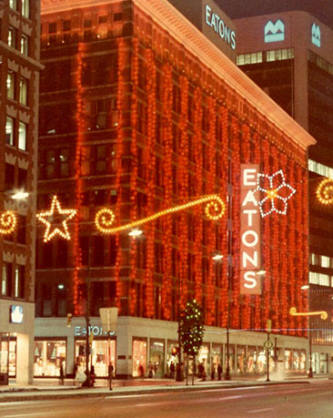 Although both Serafino and Paola loved England they decided that they wanted to start a family. In 1974, Paola and Serafino decided to move to Montreal where Serafino had secured a position with Freedman clothiers. On their way to Montreal they stopped in Winnipeg where Serafino had two brothers. The brothers spoke well about the city they had found and when Paola and Serafino arrived they realized that they had found a fertile land that would allow them to raise a family. They fell in love with the city and the people, and decided to stay in Winnipeg. Unbeknown to them at the time, Winnipeg would also allow them to live out their dream of creating their own line of clothing.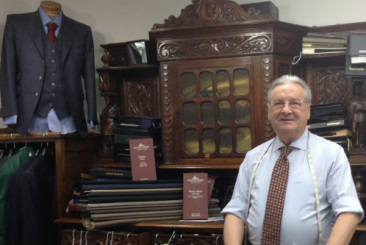 Serafino's first job in Winnipeg proved to be a bridge back to tailoring, as he was offered a position with Hanford Drewitt clothiers which he took for just under a year. At this point an opening became available at the famous Eaton's Pine Room for a Master tailor. With Serafino's international experience, and caliber of training he easily out-qualified the other applicants and became Eaton's Master tailor for the next eleven years.
At this point Paola and Serafino had already amassed distinguished careers, and respect in their field; however they had another major accomplishment ahead of them. In 1985 they realized their dream of opening their own high-end boutique where they were able to dedicate their efforts to the one form of art they knew and loved… tailoring.